Main
General Info
Requirements
Packaging
Order
Swap CDs
FAQ
Preview Download
Forums
Credits
Press Material
Cryptic Allusion
GOAT Store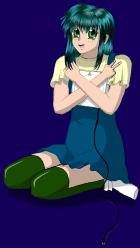 Cryptic Allusion, LLC and GOAT Store Publishing Announce Publishing Deal
May 26, 2003

The GOAT Store, LLC has worked out a deal to publish Cryptic Allusion, LLC's first game, Feet of Fury for the Dreamcast. Feet of Fury combines dance, battle and puzzle genres to create a unique new game that every Dreamcast owner will love!

"We are excited to team up with The GOAT Store," says Dan Potter, co-owner and principle developer for Cryptic Allusion. "It's great to see that someone is interested in stepping up to the plate to help keep these discontinued consoles alive."

Feet of Fury is Cryptic Allusion's first commercial project, and the first project to be published under the new GOAT Store Publishing label. Preorders for the game will begin to be accepted on May 26 through the GOAT Store, LLC Web site (http://www.goatstore.com). The game is scheduled to be released on June 7, 2003 at the Midwest Classic.

Feet of Fury will feature player versus player dance battles, a special "Typing of Fury" mode for keyboard play, unlockable content, and more. Additionally, users may play the game with their own songs and steps using the Swap CD feature of the game. Dreamcast is a trademark of Sega Enterprises, Ltd. Feet of Fury is not sponsored, endorsed or affiliated with Sega. For more information, please contact Dan Loosen at loosen@goatstore.com, or visit the Feet of Fury website at http://www.feetoffury.com.